Let the games begin!
Edit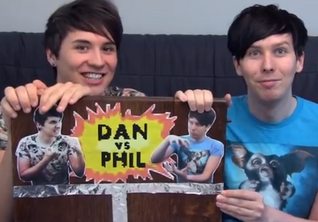 As a part of their gaming channel, it would only make sense to have a Dan vs. Phil Challenge. They've played Mortal Kombat, Buzz!, Halo 3 and many other games. They also created a score board and showed off their amazing crafting skills.
Games Played
Edit
Mortal Kombat
Halo 3
BUZZ!
MarioKart 8
Just Dance
Christmas Edition (Winter Bells, Xmas Surgeon Simulator & The Tower)
Dragon Land
Agar.io
Slither.io
Dance Evolution
Bubble Bobble
Kinect Sports
Google Feud
Crossy Road
Golf With Friends
Quick Draw
1-2-Switch
YASUHATI Don't Stop Eighth Note
ARMS
GeoGuessr
Dumb Ways to Die
Mario Kart 8 Deluxe
90 Second Portraits
Dan:
1. Mortal Kombat
2. Buzz!
3. Just Dance 2
4. Festive Flash Fight
5. Agar. io
6. Slither. io
7. Kinect Sports
8. Quick Draw
9. Golf With Friends
10. Dumb Ways to Die
11. Mario Kart 8 Deluxe
12 . 90 Second Portraits
13. Hide and Shriek
13.5. Zelda Olympics

Phil:
1. Halo 3
2. Mario Kart 8
3. Dance Evolution
4. Dragon Land
5. Bubble Bobble
6. Google Feud
7. Crossy Road
8. 1-2-Switch
9. YASUHATI Don't Stop Eighth Note
10. ARMS
11. GeoGuessr
12. Geometry Dash
12.5. Zelda Olympics

End of spoilers
Ad blocker interference detected!
Wikia is a free-to-use site that makes money from advertising. We have a modified experience for viewers using ad blockers

Wikia is not accessible if you've made further modifications. Remove the custom ad blocker rule(s) and the page will load as expected.